Semi-rigid foot and ankle stabilizing brace, invented and patented by Dr K. SHOUKRY. The FSO EVOLUTION was designed to treat Chopart sprains, Lisfranc sprains, ankle sprains and metatarsal fractures. The FSO relieves pain and through its vice effect, it stabilizes the midfoot between the rear and forefoot, it also supports the bones and joints of the foot and ankle.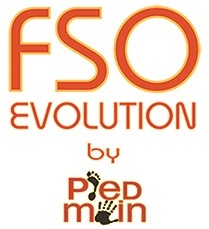 Data sheet
Ambidextrous (used for right and left foot as well)

oui

Check with insurrance coverage for reimbursment

LPP 7181803 - 30.86€ TTC

3 - Remboursement

Check with your insurrance coverage for reimbursment

Mode d'empli détaillé

Included with your order
Specific References
EAN13

3770006528
FAQ PHARMACIES ET REVENDEURS





TARIF PUBLIC TTC

FSOv3 BEIGE à 33 € ,+ 6€ frais de port

FSOv4 MARINE à 53 €  + 6€ frais de port



Prix HT 
FSOv3 BEIGE     31,28€ 
FSOv4 MARINE 50,24€




Code LPP 7181803   -   Tarif de responsabilité AMO+AMC = 30.86€TTC



Choisir la taille selon la pointure du patient(e) ou mesurer la longueur du pied en cms



Choisir la couleur : FSOv3 BEIGE ou FSOv4 MARINE



 Pour une expédition le jour même, la commande doit nous parvenir avant 12h



 Livraison en France Métropolitaine en 24h-48h, certaines régions sont livrées en 72h ou plus.





Tarif pharmacie : nous contacter au 06 95 07 98 00, nous vous fournirons le bon de commande et les conditions.
No customer reviews for the moment.